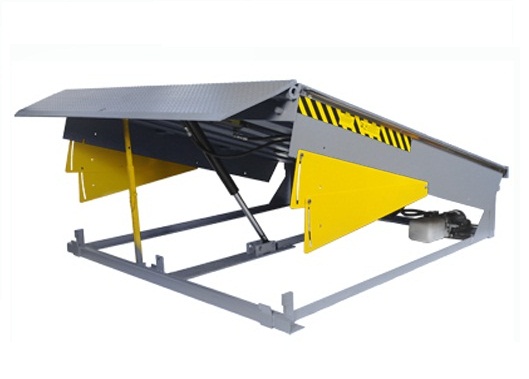 A-Series Hydraulic dock leveler
Hydraulic 30,000 to 80,000 lb (13,636 to 36,364 kg) Rated Capacities
We deliver one of the highest strength ratios in the industry with features like high tensile steel. We incorporate a minimum of 6 I-Beam deck supports in all A-Series Dock Levelers. At higher capacities that increases to 8 I-Beams. I-Beams offer greater strength support.
Description
A-Series hydraulic Dock Levelers are high performance systems. Push-button electro-hydraulic operation. Automatically actuated hydraulic beveled lip. Maintenance-free hydraulics. We offers a range of safety features such as full range toe guard protection, hydraulic fall safe protection and the capability to be interlocked with our optional hydraulic truck restraint system with driver safety communications package.
Designed to tilt to either side – up to 4" (102 mm) – when loaded. This floating action allows full width contact between the lip and truck bed. Prevents damage to forks, tires, steering system and load, thereby prolongs life of dock leveler bed.
Highlights
Comes with rugged, wall mounted single shielded push-button control for ease of operation.
Upgrade to the touch control panel with LCD display and microprocessor based controls.
Hydraulic lip cylinders increase operating efficiency, reduce maintenance requirements.
Velocity fuse fall safe limits free fall to within 3" (76 mm).
Continuous duty rated hydraulic power system with 1 HP motor available for all electrical requirements
UL/CSA approved electrical components

Features
Superior Quality and Features
Deck support is provided by a minimum 6 l-beams welded at dynamic impact points. Continuous single-piece headboard increases strength across the front of the deck.
Lip Hinge is a full width design to maximize strength and to withstand the dynamic forces. Minimum of 7 rear hinge support blocks plus two corner mounted tilt pockets for a total of 9 rear hinge supports.
Our Dock Levelers are designed to tilt to either side – up to 4′(102mm)- when loaded. This floating action allows full width contact between the lip and truck bed. Prevents damage to forks, tires, steering system and load, thereby prolongs life of dock leveler bed. Unique to our hydraulic and mechanical levelers.
Working load range 12″(305mm)below deck level.
Swing-out maintenance personnel safety strut is standard on all models.
Full range toe guards are heavy gauge steel plate and come standard in ANSI approved safety yellow.
High visibility safety striping alerts personnel when dock levelers is in extended position above cross traffic.
Standard laminated bumpers(2 each) plus mechanical night locks and stops.
Heavy duty main lift springs with lifetime warranty.
Dependable friction type hold down system that reduces cross traffic bounce and provides instant hold at any point in the full operating range.
Patented lip actuator .As deck rises, the lip smoothly powers out to the locked position. Releases automatically when truck departs.
Yieldable lip safety collapses if struck while in extended position.
Mechanical fail safe prevents platform free fall (Standard in US market).
Options
SVR303 Vehicle Restraint
With the largest restraining range of 8″ to 26″(203-660mm) above ground and up to 12″(305mm) from the face of the wall, the SVR303 is the best low profile, non-impact, vehicle restraint in the industry. MH30.3 tested and approved.
Automatic Combination Control Panel
The ultimate in dock safety and performance. A single control station for both Hydraulic Dock Leveler and Hydraulic Vehicle Restraint. Leveler operation is prevented until restraint is secured for operator safety. Standard when ordered in combination with FH Hydraulic Dock Leveler and the SVR303 Hydraulic Vehicle Restraint.
Free Standing Frame
When space limitations do not permit construction of a pit, an option is a dock leveler with its own free standing frame. Custom sizes available.
New Construction Pit Kit
Available as part of the original dock leveler or advance shipped to facilitate pit construction.(Bottom pan not supplied when ordered as a pit kit, unassembled)
XDS Series – Extra Dock Safety
The Heavy duty Dock and Door Guard is specifically designed to prevent forklift roll-off and overhead damage. Stops up to 10,000 lbs (4,545 kg) rolling load at 4 mph (6,4 km/h).
DLB Series – Dock Lip Barrier
The Dock lip barrier prevents accidental forklift roll-off when the overhead door is open and no trailer is stationed at the dock.
Dock Seals, Bumpers and Accessories A complete line of products for any size door opening.
Brush and Rubber Weather Seals Prevents debris from entering dock leveler mechanism. Reduces heating and cooling loss.