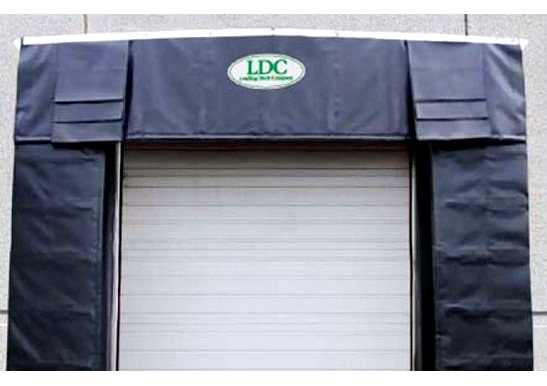 LDC D600 full frame loading dock shelter
10'0" w x 10'0" h openings
Generally designed for but not limited to 10' wide x 10' high openings. The series D600 is ideal for tailgate or standard trailers. The design of this unit allows the trailer to pass through the side and top curtains allowing full unrestricted access to the rear of the trailer when loading and unloading. With no mechanical or adjustable parts, this unit is designed to prevent many of the problems that arise from conventional seals and shelters. With foam side frames and removable side curtains, this unit is ideal for virtually every application.
SAVE hundreds of dollars in reduced energy costs
IMPROVE working conditions by keeping dust, dirt, debris and insects out
PROTECT product and personnel from harsh weather conditions
INCREASE PRODUCTIVITY by providing a safe and comfortable working environment
DURABLE range of Hi-Performance fabrics to choose from
CUSTOM sizes available to suit any loading dock specifications
Specifications
Full Access: The D600 unit is designed to allow full unrestricted access to the rear of the trailer preventing premature wear and tear caused by loading and unloading product.
Foam Frame: The foam frame vertical pads of the D600 shelter resist damage caused by off-center trailer impact and returns to original form.
Removable Side Curtains: The side curtains can be easily removed to allow air flow into the building during warmer months and increase the life of the unit.
Customize
Protect Your Investment

With LDC's "Reflective Guides" designed to ensure accurate truck placement. This maintenance free product safely guides trailers to the docking position in poor visibility and low light level situations thereby reducing possible damage to product and dock area.
Fabric
LDC can customize your dock seal with the ideal fabric for your application from a wide range of colors and fabrics available.
22 oz Hi-Tear Vinyl 
32 oz Hi-Tear Vinyl 
40 oz Hi-Tear Vinyl
Hi-Performance Artic Seal
16 oz Hi-Tear Hypalon
40 oz Hi-Performance Hypalon
Downloads