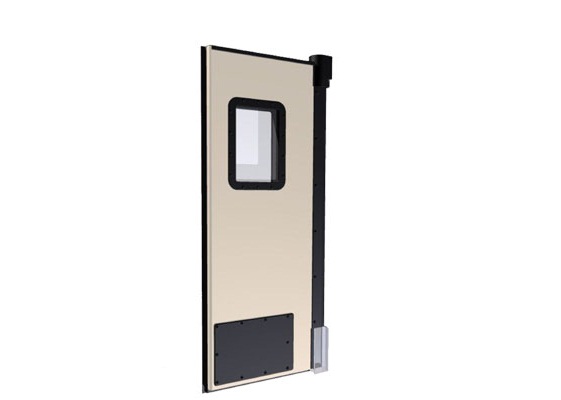 Durulite Retailer R25 - EISA Traffic Door
The Retailer R25 Insulated Impact Traffic Door is your solution to meeting the requirements of the 2007 Energy Independence and Security Act (EISA). The R25 utilizes time proven rotational molding technology and urethane foamed-in-place insulation to meet the insulation requirements set forth in the EISA Energy Bill.
Colors


Black


Beige


Chocolate Brown


Medium Brown


Metallic Grey


Cloud Grey


Navy


Red


Royal Blue


Cadet Blue


Burgundy

Forest Green


Jade


White
Features
Door Panel
Constructed with a 1/8" thick outer shell of high-density cross-linked polyethylene and a Non-CFC urethane foam core. The panel can retain its properties to -40°F. The overall thickness of the panel is 3-3/4", making it lightweight and easy to open.
Insulated Core
Non-CFC urethane core is foamed-in-place to insure a tenacious bond between the core and outer skin, providing excellent thermal separation with an R factor of 25.
Gasketing
Replaceable perimeter edge gasketing is provided on the perimeter of the door panel to reduce air infiltration.
Hinge
Time proven Durulite Retailer double acting V-Cam hinge system operates smoothly and is virtually maintenance free with its permanently lubricated needle bearing roller assembly.
Window
Triple pane vision panels are standard.
Back Spine
Full height back spine insures panel rigidity.
Standard Options Available
The Retailer R25 can be equipped with all of the options available on our standard Retailer door including impact plates, teardrop bumpers, custom windows and special hardware options.
Advantages
Monolithic Construction
Rotationally molded panel design offers exceptional durability in a traffic door along with lightweight construction. Door panels are impervious to moisture penetration or panel separation.
Impact Resistance
Standard tests for impact resistance indicate that cross-linked polyethylene is 5 times more puncture resistant and 3 times more flexible than ABS material used by competitors.
Non-CFC Urethane Core
Foamed-in-place urethane insulation provides 30% to 40% greater insulation than styrene insulation. Panel durability is also much greater than doors that are glued and riveted together.
Self Closing Door System
The Retailer R25 offers comparable insulation to latching cold storage doors, while reducing air infiltration. The door allows unimpeded passage, and closes immediately once the load is through the opening. Traffic doors also enhance productivity, offering additional cost savings over traditional cold storage doors.
Applications
Supermarket
Retail
Pharmaceutical
Food Processing
Institutional
Cold Storage
Food Service
Warehouse Distribution
Options
Windows
Bumpers
Hinge Guard
Impact Plate
Push Plate and Pull Handle
Downloads