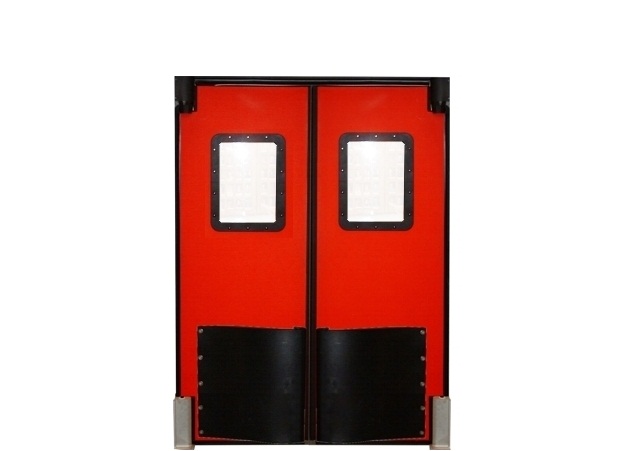 Durulite Retailer Traffic Door
Durulite Retailer doors are constructed with rotationally molded cross-linked polyethylene, making them extremely durable and capable of withstanding the wear and tear associated with sales-to-back room and walk-in cooler openings in high volume retail establishments. Known for their long-term value, they are ideal for use in supermarkets, retail establishments, institutions, restaurants and food service operations as they provide a visual separation, sound barrier and thermal separation. The door is designed to comply with all USDA sanitation requirements and is NSF approved.
Colors


Black


Beige


Chocolate Brown


Medium Brown


Metallic Grey


Cloud Grey


Navy


Red


Royal Blue


Cadet Blue


Burgundy

Forest Green


Jade


White
Features
Door Panel
It is lightweight, opens easily and closes every time. Overall panel thickness is 1-1/2", skin thickness is 1/8" and the door can be sized up to a 8' x 10'. Cross-linked polyethylene outer skin retains its properties to –40°F.
Insulated Core
High density, Non-CFC urethane core is foamed-in-place to ensure a tenacious bond between the core and outer skin, providing sound abatement and excellent thermal separation with an R factor of 9.86.
Internal Reinforcement
A 1" diameter hinge post is molded in the door and runs the full length of the panel. The hinge post sets into the jamb guard for structural stability and strength. The leading edge is reinforced with an aluminum extrusion adding additional structural support.
Gasketing
Replaceable perimeter edge gasketing is used to reduce energy flow between environments. The door comes standard with a gasket along the leading, back and bottom edges. Partially gasket doors are available.
Upper Hinge
Patented v-cam hinge system can travel up to 120 degree in each direction.
Low Hinge Assembly
The lower hinge assembly holds the lower hinge post in position, preventing horizontal movement of the door. It also serves as a lower hinge guard, protecting the lower hinge post from impact damage.
Window
Large polycarbonate windows are virtually scratch resistant.
Applications
Supermarket
Retail
Institutional
Food Service
Warehouse Distribution
Options
Windows
Bumpers
Hinge Guard
Impact Plate
Cart Guards/Rub Rails
Double PaneWindows
Kick Plate
Push Plate and Pull Handle
Hold Open Device
Downloads