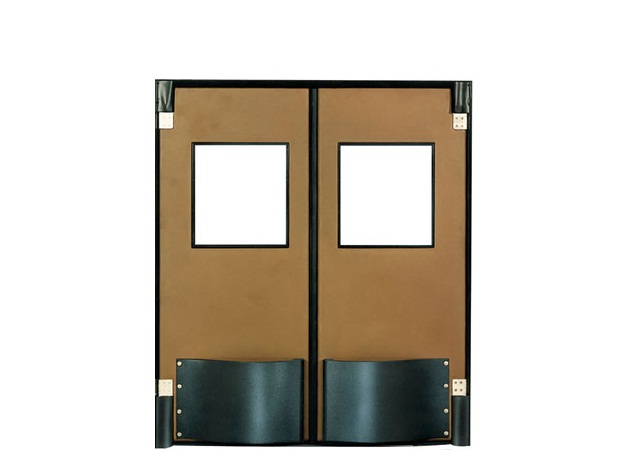 Durulite Standard Traffic Door
This lightweight patented door is rotationally molded from cross-linked polyethylene and is known in the industry for its ruggedness, ease of maintenance and long service life. Standard tests for impact resistance indicates that cross-linked polyethylene is five times more puncture resistant and three times more flexible than ABS material.
Colors


Black


Beige


Chocolate Brown


Medium Brown


Metallic Grey


Cloud Grey


Navy


Red


Royal Blue


Cadet Blue


Burgundy

Forest Green


Jade


White
Features
Door Panel
Lightweight, weighing only 2.5 pounds per square foot, opens with ease, operates smoothly and allows for safe passage of personnel and damage free equipment. The overall panel thickness is 1-7/8" and the skin thickness is 1/8" thick.
Insulated Core
The foamed-in-place Non-CFC urethane core (permanently bonded to the outer surface) does not break down when impacted, provides noise control and excellent insulation with an R factor of 10.83.
Internal Reinforcement
The leading and back edge of door are internally reinforced with tubular steel to strengthen the door panel.
Upper Hinge
Heavy-duty v-cam hinging system operates smoothly and is virtually maintenance free with its permanently lubricated needle bearing roller assembly. Optional stainless steel hinge is available.
Bottom Hinge
For additional strength and durability the hinge is designed with pillow block constructed of zinc plated ductile iron (stainless steel is optional) with a UHMW sleeve and solid cast aluminum lower hinge adapter. Plus the lower hinge adapter has a provision for mounting an optinal spring assist.
Window
1/8" thick polycarbonate window with black frame is recessed a minimum of 1/8" from the face of the panel to protect the window's surface from abrasion caused by passing loads.
Applications
Supermarket
Retail
Industrial
Pharmaceutical
Food Processing
Institutional
Chemical
Cleanrooms
Cold Storage
Water / Wastewater
Warehouse Distribution
Options
Windows
Bumpers
Hinge Guard
Impact Plate
Cart Guards/Rub Rails
Security Lock
Double PaneWindows
Kick Plate
Spring Assist
Push Plate and Pull Handle
Hold Open Device
Downloads