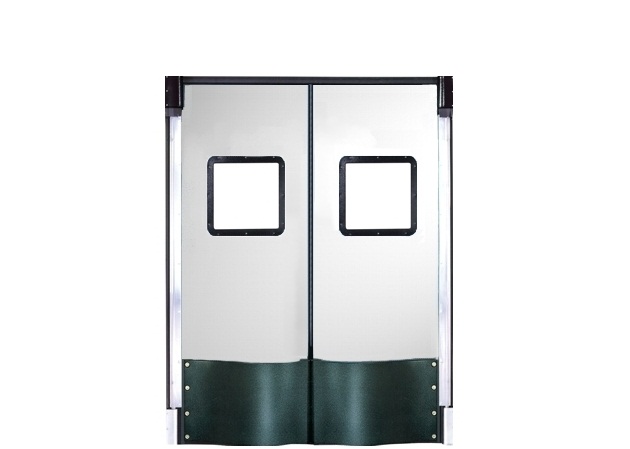 Proline 300s & 400s Traffic Doors
Proline 300 and 400 traffic wood-core doors are designed for strength and durability in abusive applications. They provide visual separation, sound attenuation and thermal separation. The doors can be manufactured to fit virtually any size opening. The door is designed to comply with all USDA sanitation requirements.
Colors


Aluminum


Antique White


Beige


Black

Cadet Blue


Chocolate Brown


Cloud Grey


Forest Green


Medium Brown


Metallic Grey


Navy


Red


Royal Blue


Stainless Steel


White
Features
Door Panel
The doors are constructed with durable ¾" thick wood. Surface coverings include full height high pressure laminates, ABS impact resistant plastic, FRP, stainless steel, galvanized steel or aluminum.
Internal Reinforcement
Integrated tubular steel reinforcement from the hinge to the frame assures extra strength and durability.
Steel Spine
Steel spine reinforces the edge of the door against heavy impacts, standard on Proline doors over 36" wide, optional on doors under or equal to 36" wide. Recommended for heavy-duty applications.
Gasketing
Full perimeter replaceable gaskets are built into the ProLoc™ edge to stand up to heavy traffic while providing a positive seal for thermal separation. Partially gasket doors are optional.
Patented ProLoc™ Edge System
Chemically bonds to the face sheets providing a positive seal and preventing moisture or contaminates from entering the door panel.
Hinge
Patented v-cam hinging system has a 250° hinge that swings 125° in each direction, wide enough to allow the entire door and bumper to completely clear the opening.
Window & Frames
ABS window frames are chemically bonded for a permanent seal that stands up to repeated washdowns. Single pane 1/8" thick polycarbonate window is used in the wood core doors, double pane windows are used in insulated doors.
Applications
Supermarket
Retail
Industrial
Institutional
Food Service
Warehouse Distribution
Options
Windows
Bumpers
Hinge Guard
Impact Plate
Cart Guards/Rub Rails
Downloads