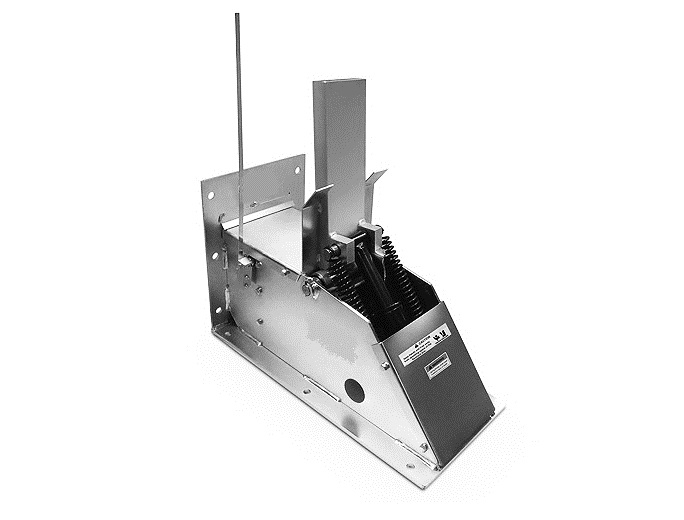 TL85 hydraulic vehicule restraint
32,000 lb (14,545 kg) restraining strength
The TL85 hydraulic vehicle restraint keeps dock operations safe and secure during loading and unloading. Trucks and trailers are held firmly in place by a high-visibility barrier-style restraint arm, and a restraining force of 32,000lbs (14,545kgs) prevents accidental separation from the loading dock during the cargo handling process. The TL85 may be left engaged overnight to deter trailer theft.
Description
Non-Impact Operation
ICC bars are secured via passive engagement, creating less wear and tear on the restraint components and consequently lowering maintenance requirements.
Internal automatic pressure switch maintains the arm in the locked position while in operation.
Compatible with air-ride suspension systems.
Securing technology allows the restraint arm to lock at any angle between 45 and 90 degrees. Perfect for applications that involve a variety of truck configurations, including those with bent or crooked ICC bars.
Services trucks with ICC bars from 12″ to 26″ (305mm to 660mm) above ground.
Horizontal restraining range is up to 12″ (305mm) beyond the face of the dock.
Should an obstacle prevent the restraint arm from properly parking, the arm will dislodge it.
Versatile Installation
The TL85 comes standard with a remote, wall-mounted power pack, but is also available with a self-contained power pack, to suit site conditions.
May be wall or ground-mounted.
Intelligent Touch Controls
The Touch Control Panel features include an LCD menu screen, function buttons and a flat surface keypad with unique touch sensors.
Interior and exterior LED lights keep drivers and warehouse personnel advised of safety conditions.
Audible alarm built into the control panel alerts the dock attendant to potentially unsafe conditions, such as broken or missing ICC bars.
Audible touch buttons and keypad provide instant sound feedback to user input.