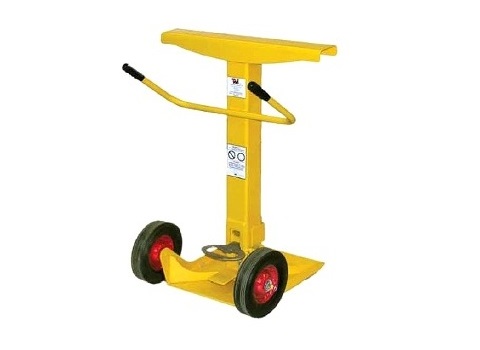 Auto-Riser Trailer Stands
Made of heavy gauge steel, the square center down tube is topped with a wide 5" x 30" support pad that is automatically extended from a base height of 42" to 52.5". Only one unit is required per trailer. The Auto-Riser has a static load capacity of up to 100,000 lbs. The extra large 17" x 18.5" base pad maintains trailer stability even during extremely hot weather when asphalt can sink under the wight of a loaded trailer.
Ergonomically friendly double positioning handles with vinyl grips allow the stand to be moved and positioned with great accuracy, even in snow, sleet, and loose gravel. The unique gas activated leveling system and security locking pin safety feature allow the Auto-Riser to be one of the easiest trailer stands to operate in business.
Features
Up to 100,000 lbs Static Load Capacity
Height Adjustable from 42″ to 52.5″
5″ x 30″ Support Pad
Large 17″ x 18.5″ Base
10″ Semi-Pneumatic Rubber Tires
Weight: 150 lbs
Only One Unit Required Per Trailer
Downloads