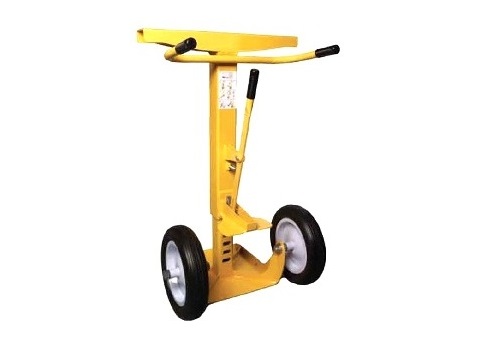 EZ-Riser Trailer Stands
Our EZ-Riser is a new, heavy-duty,ergonomically designed trailer stand that offers best in class safety and simplicity. The EZ-Riser has a unique gas-activated  leveling and rising system, and does not require the user to bend over or perform other straining motions. The user simply, positions the EZ-Riser trailer stand under the nose of the trailer, releases the biased-based security pin, allows it to automatically rise to the underside of the trailer, and locks it using the security lever, creating a safe condition.
The EZ-Riser has an extra large base, heavy-duty 16″ diameter solid rubber, tires and ergonomically positioned handlebars for easy handling on any surface. The EZ-Riser has up to a 100,000 lbs static load capacity and successful free-fall strength testing. While other systems require, two stands per trailer, only one EZ-Riser unit is required.
Features
Up to 100,000 lbs Static Load Capacity
Working Range from 37″ to 48″
Extra Large Base Plate: 17″ x 18.5″
Large 16″ Diameter Wheels
Weight: 200 lbs
Only One Unit Required Per Trailer
Downloads