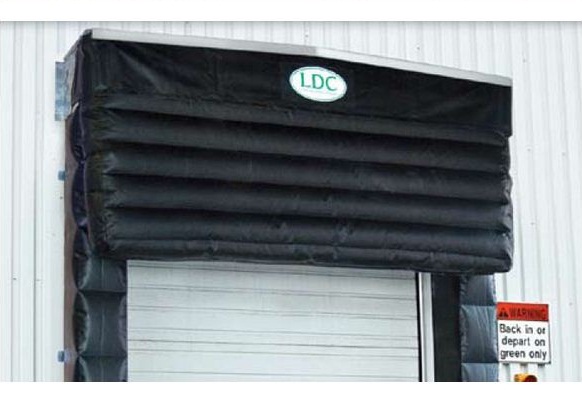 LDC D350 inflatable loading dock seals
8'0" w x 10'0" h openings
Generally designed to suit 8´ wide x 10´ high openings. The series D350 service a large variety of trailer heights. This unit minimizes pressure against the building wall from an incoming trailer as the unit is inflated after the trailer has docked. A unique internal baffle system in the vertical air bags creates a square faced design that increases the contact area against the back of the trailer. An internal retraction spring allows the header airbag to be fully retracted when not in use to prevent damage from incoming trailers.
Specifications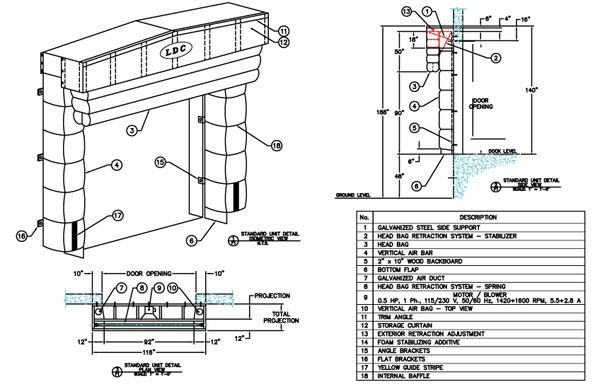 Square faced design creates larger contact area against truck
Pressure treated non-rot wood framing
24″ yellow guide stripes for accurate truck placement
Externally mounted motor with galvanized protective hood
Higher wedged header design seals a variety of trailers
Custom sizes and projections available
Available in 22 oz Hi-Tear Vinyl or rugged 16 oz Hi-Tear Hypalon
Customize
Incline


Incline approach

Beveled air bags (Top view)
D350 only


Decline approach
Fabric
You can customize your dock seal with the ideal fabric for your application from a wide range of colors and fabrics available.
14 oz Hi-Tear Vinyl 
22 oz Hi-Tear Vinyl 
32 oz Hi-Tear Vinyl 
40 oz Hi-Tear Vinyl
Hi-Performance Artic Seal
16 oz Hi-Tear Hypalon
40 oz Hi-Performance Hypalon
Downloads