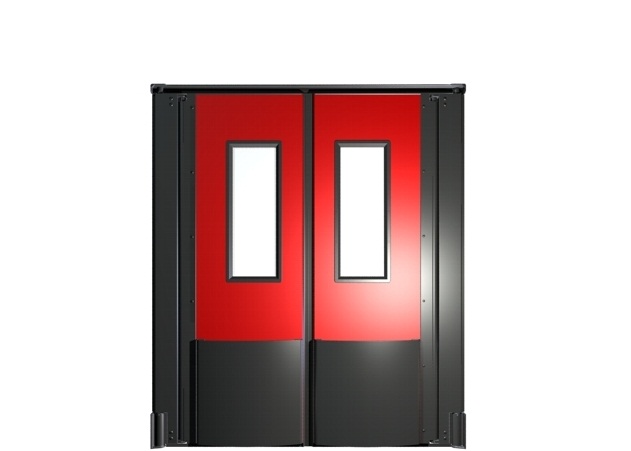 Durulite XLD360 Evolution Traffic Door
The Durulite Evolution XLD360 represents the next generation of traffic doors by unveiling a whole new concept in the mechanics of double-acting doors with a hinging system that provides a full 360º of swing. The Durulite Evolution XLD360 swings wider, opens easier, closes faster, seals better, is safer to use than any other traffic door on the market.
Colors


Black


Beige


Chocolate Brown


Medium Brown


Metallic Grey


Cloud Grey


Navy


Red


Royal Blue


Cadet Blue


Burgundy

Forest Green


Jade


White
Features
Door Panel
1.75" thick roto-molded, durable polyethylene plastic panel is completely filled with non-cfc urethane foam and is unaffected by water, detergents, chemical solvents and petroleum products. It can be sized up to 8' x 9' and has an R factor of 10.83. The lightweight door panel is easy to open, operates smoothly and allows for safe passage of personnel and equipment.
Hinge Swing
The unique hinging system of the XLD360 provides a full 360 degrees (180 degrees x 2 from the center or closed position) of swing, allowing complete freedom of movement through an opening in any direction. Unlimited wide swing maximizes a clear usable opening and allows for a sharp turn immediately after going through the opening. Without bumpers, it can lay flat up to the wall on either side, up to an 8" jamb.f
Unique Double Hinging System
The full length back spine contains the in-line cam, coil spring gravity assist hinge system which allows the door to open easier, close faster, and center in its closed position more quickly. Its unique swing dampening effect slows the panel as it reaches its full opening potential reducing the chance of "panel wrapping" and prevents "bounce back" that can injure personnel and damage goods and equipment.
Seals better
The Durulite Evolution provides superior thermal control because there are no hinge and jamb guard cut-outs. Full perimeter nose, floor, jamb and header seals eliminate difficult to seal notch openings for external hinges that are found at the top and/or bottom of a traditional door panel. Fully gasketed and partially
gasketed versions are available.
Window
Windows are ADA and OSHA compliant 10" x 30", two piece injected molded, low profile frames with double vision pane of 1/8" thick polycarbonate.
Jamb Guard
Low profile 8" high cast metal jamb guard comes standard and only projects 2.75" maximizing useable opening width so larger loads can pass through the opening unobstructed.
Applications
Supermarket
Retail
Industrial
Pharmaceutical
Food Processing
Institutional
Cleanrooms
Warehouse Distribution
Options
Windows
Bumpers
Impact Plate
Cart Guards/Rub Rails
Push Plate and Pull Handle
Downloads