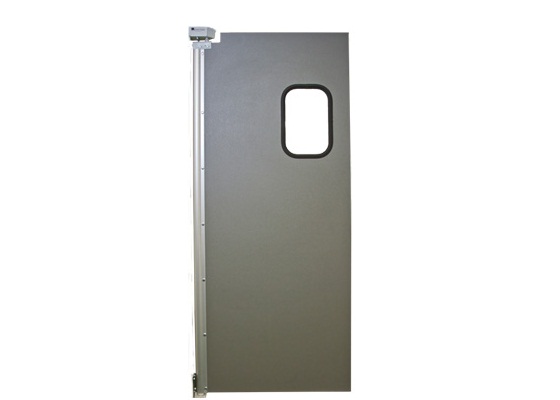 EcoSwing Post-Consumer Recycled Traffic Door
The EcoSwing™ might look like our SRP5000 door, but the panel is made out of 98% post-consumer recycled content. The window is approximately 80% recycled content and the spine is recycled anodized aluminum with 81% recycled content, 57% pre-consumer content, and 24% post consumer content.
According to U.S. Green Building Council, LEED is an internationally recognized green building certification system. LEED lays out a framework for identifying and implementing practical and measurable green building design, construction, operations and maintenance solutions.
Materials that contain both pre-consumer and/or post-consumer recycled content will contribute towards LEED credits. Recycled content is calculated based on the amount of recycled material in the product, either from a product weight or product cost standpoint (varies by project). For any pre-consumer recycled material content, your customer will receive 50% of recycled dollar value of the door, but for postconsumer recycled material content, your customer will receive the full 100% of the recycled value. – LEED MR Credit 4 – Recycled Content
For example:
• If you have an 84" x 84" EcoSwing Door
• The standard 9" x 14" recycled window
• Total recycled content is 78% (74% post-consumer, 4% pre-consumer)
Based on product cost, approximately $75 out of every $100 of the purchase price would contribute to LEED Credits!
Color


Grey
Features
Door Panel
Lightweight, durable doors are constructed of 1/2" thick recycled material. Door panels are textured and have the color throughout, hiding normal dents and scratches.
Back Edge Spine
Back edge spine is a one-piece, continuous extruded 1/4" x 2" diameter anodized aluminum tube with flanges that radius the door panel for added strength and durability. The recycled content is 81% with 57% being –pre-consumer and 24% being post consumer.
Leading Edge
Leading panel edge is beveled for safety.
Hinge
Proven hinge system mounts to the jamb with offset cam system and hardened rollers, for years of service with minimal maintenance.
Windows & Frames
Windows are 9" x 14" is made with approximately 80% pre-consumer recycled content.
Additionnal Benefit
Complies with FDA Food Code 2009: 4-101.19 Nonfood-Contact Surfaces.
Applications
Supermarket
Retail
Restaurant
Institutional
Food Service
Prisons/Correctional
Downloads