Garaga G-2020, G-2023 and G-2323 Commercial Doors
---
Perfect for maximum impact resistance
Our Garaga G-2023 and G-2020 commercial garage doors offer all you need in your work environment. The hot-galvanized steel doors have a 20/23 gauge for the G-2023 and 20/20-gauge hot-galvanized steel door for the G-2020. These doors are 1 3/4 in. (44.5 mm) insulated doors with high-pressure injected polyurethane foam ensuring a high thermal-resistance rating of R-16 (RSI 2.8). Model G-2323 has a 23/23 gauge on both sides of the door.
Smooth finish steel
Thickness: 1 ¾"
Color: Tex White
Polyurethane sandwich door
R‑16 insulation
Models: 2 Grooves and 4 Grooves
Features and benefits
A) High-pressure injected polyurethane
Stronger and more energy-efficient insulation
Solidly bonded to the steel sheets providing a section that is resistant to flexion.
23-gauge or 20-gauge steel, provides a bending resistance 15% greater than 26-gauge steel, for better resistance to impact and vandalism.
Highly corrosion-resistant with galvanized steel having a minimum of G60 zinc coating (180 g/m2).
---
C) InterlokTM triple-contact joints
Sections are strengthened by 2 steel walls joined together with mechanical interlocking joints which are more solid than just two bonded walls.
Their Mechanical thermal breaks which are more efficient compared to thermal breaks made with glue.
Triple-contact joints provide 2 times more weathertightness than those of the competition. 
---
D) Metal reinforcement plates
Provide stronger fastening for hinges and struts. These 14-gauge plates are 2 times thicker than 20-gauge plates used by other manufacturers.
Provide a thermal break that is more effective than steel end caps which form a thermal bridge. 
Structural elements of the sections, the kiln-dried pine wood end blocks are installed at the outer ends of the section. They are stronger than insulation covered with a steel cap.
Provides much better fastening of the end hinges. The lag screws engage 8 threads into the wood, compared to a self-tapping screw going through a steel end cap engaging only about 2 or 3 threads.

Panel construction
G60 hot-dipped galvanized steel with five coats of protective finish.

G-2020: 20-gauge exterior and interior steel skins

G-2023: 20-gauge exterior and 23-gauge interior steel skins

G-2323: 23-gauge exterior and interior steel skins

Baked-on polyester paint. Can be repainted.
Smooth finish on both sides of the door.
Same quality of corrosion-resistant steel for interior and exterior faces.
---
2) 1 ¾" (44.5 mm) insulated door with high-pressure injected polyurethane foam ensuring a high thermal-resistance rating of R‑16 (RSI 2.8 or k= 0.357 W/m2K) and the solidity of a composite material.
---
3) InterLokTM joints between each section:
Mechanical joints ensure stronger sections with walls of each panel mechanically interlocked (not only bonded by the polyurethane).
Mechanical thermal break avoids heat transfer between the interior and exterior walls of each section.
Triple-contact joint prevents air infiltration.
---
4) U-shaped tubular bottom weatherstripping made of thermoplastic elastomer (TPE) ensures the weathertightness of the threshold. Remains flexible and watertight during cold weather, to -62°F (-52°C).
---
5) Wood end blocks made of kiln-dried pine (grade 4). With our lag screw system, ensure better fastening of the end hinges. They also provide a thermal break which prevents thermal bridging.
---
6) 14-gauge steel reinforcement plates placed inside the door for solidly attaching hinges and struts.
---
Door weight:
G-2020: 3.35 lb/ft2 (16.3 kg/m2)
G-2023: 3.15 lb/ft2 (15.4 kg/m2)
G-2323: 2.85 lb/ft2 (13.9 kg/m2)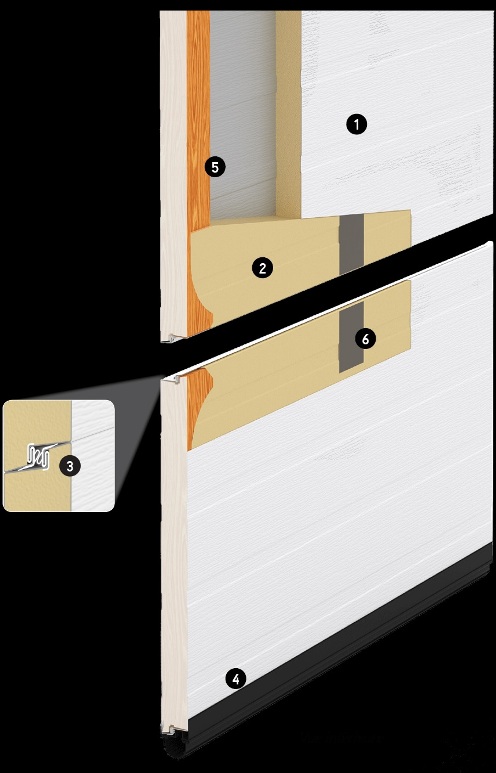 Models and sizes
MODELS
2 Grooves                                                            4 Grooves
---
SIZES (G-2020, G-2023 and G-2323)
Width – In 1″ (25 mm) increments : From 5′ to 24'2″ (1.5 m to 7.4 m)
Height – In 3″ (76 mm) increments : From 6′ to 24′ (1.8 m to 7.3 m)
Warranties
10 years against any perforation of steel due to rust
10 years on the wood and blocks against cracking and rot
10 years against delamination of the steel skin from the polyurethane foam
1 year on other door components
10 years against seal defects on Standard windows
Colors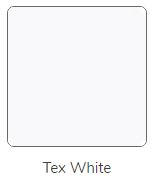 The accuracy of color on the website may vary depending on your screen settings. To see the true color, please contact your local Garaga dealer for a sample.
Windows
STANDARD WINDOWS
Available for doors: G-2020, G-2023, G-2323
Sizes: 21″ x 13″ (533 mm x 330 mm)
Glass
Thermopane windows: Clear, Satin, Wired, Tempered, Laminated or Tinted
Single glass (3 mm): Clear, Satin, Tempered or Tinted
Polycarbonate (3 mm): Single or Thermal (Sealed): Clear or Tinted
Frame color: White
---
OVAL WINDOWS
Available for door: G-2020, G-2023, G-2323
Sizes: 26″ x 13″ (660 mm x 330 mm)
Glass
Frame color: Black
---
G-4400 SECTIONS (FULL VISION)
Available for door: G-2020, G-2023, G-2323
All info about this product: See the G-4400 section
Glass
Single pane: Clear, Satin, Tempered, Laminated or Tinted
Sealed windows: Clear, Satin, Wired, Glue Chip, Low‑e, Tempered, Laminated or Tinted
Fluted polycarbonate: Clear or Bronze
Single polycarbonate : Clear or Tinted
Sealed polycarbonate (thermal): Clear
Frame colors: White, Black and Anodized
Hardware
STEEL TRACKS
2" (50 mm), 13-gauge or 14-gauge
3" (76 mm), 12-gauge
---
HARDWARE SYSTEMS AND OPTIONS
Learn more about: