Garaga G-4400 Commercial Door
---
Perfect for repair shops and fire stations
All made of extruded aluminium, the Garaga G-4400 door is ideal for environments needing a very strong natural lighting; repair shops, fire stations, restaurant terraces, etc. A wide selection of windows and frames is available.
Full vision door
3 colors
Thickness 1 ¾"
Aluminum frame
Non‑insulated
PANELS
Clear Anodized
Clear Anodized with Kick Proof or
Clear Anodized with Silver G‑5000 panel
Features and benefits
A) 6 ¼" Tubular Extrusions
Built with 6 ¼" extrusion at perimeter (top, bottom and double hinge end) formore structural strength.
Less quantity of extrusions provide a more aesthetic and modern look. Thus, the windows are bigger to let in maximum light.
More then 20 types of glass are available for a look that blends beautifully with the architectural style of the building.
Meets all safety requirements since most types of glass are offered tempered or non‑tempered.
Highly precise finish of the assembly joints for a more attractive structure.
Built with thermo windows that completely cover up the spacer and the silicone glazing.
Panel construction
1) 1 ¾" (44.5 mm) thick door
Tubular aluminum extrusion (6063 T5), 1⁄16″ (1.6 mm) thick
Thicker extrusion 1⁄8″ (3.2 mm) at fastening points for more strength
6 ¼" (159 mm) perimeter extrusion (top, bottom and double hinge end)
Rigid vinyl (PVC) pane molding
---
2) Weatherstripping between sections efficiently prevents air infiltration.
---
3) U‑shaped tubular bottom weatherstripping made of thermoplastic elastomer (TPE) ensures the weathertightness of the threshold R emains flexible and watertight during cold weather, to -62°F (-52°C).
---
4) Perimeter weatherstripping (jambs and lintel) Aluminum extrusion base with double‑edge weatherstripping in arctic vinyl.
---
5) Hinges equally spaced on the door for a better look.
---
6) Integral reinforcement strut for doors 14′ (4267 mm) wide and over.
IMPORTANT: The full vision door should not be used for insulation properties.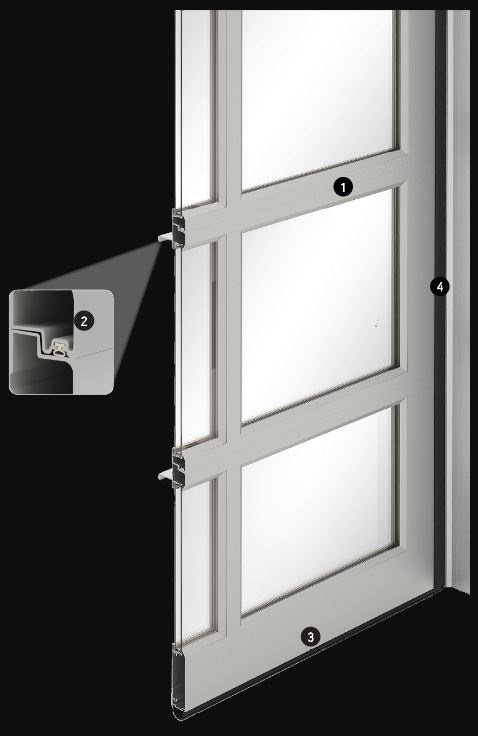 Models and sizes
MODELS

---
SIZES
Widths – In 1″ (25 mm) increments : From 4′ to 24′ (1.2 m to 7.3 m)
Heights – In 1″ (25 mm) increments : From 6′ to 18′ (1.8 m to 5.5 m)
---
NUMBER OF UNITS PER SECTION 1
2 Units : Width of 96" to 111" (2438 mm to 2819 mm)
3 Units : Width of 112" to 147"(2845 mm to 3734 mm)
4 Units : Width of 148" to 194" (3759 mm to 4928 mm)
5 Units : Width of 195" to 230" (4953 mm to 5842 mm)
6 Units : Width of 231" to 264" (5867 mm to 6706 mm)
7 Units : Width of 265" to 288" (6731 mm to 7315 mm)
1 Contact our Technical Department for the possibility of modifying the number of units per section.
Warranties
10 years against seal defects on Standard windows
10 years against any perforation of aluminum due to rust
1  year on other door components
Colors

The accuracy of colors on the website may vary depending on your screen settings. To see the true colors, please contact your local Garaga dealer for a sample.
Windows
Sealed thermopanes are 7⁄8" (22 mm) thick.
---
---
---
Other types of glass are available upon request. Contact your Garaga dealer.
Hardware
STEEL TRACKS
2" (50 mm), 13‑gauge or 14‑gauge
3" (76 mm), 12‑gauge
---
HARDWARE SYSTEMS AND OPTIONS
Learn more about: