LiftMaster 8160 Electric Garage Door Opener
The 8160 LiftMaster model is a quiet garage door opener featuring MyQ® app & smartphone connectivity. LiftMaster's DC Contractor Series Garage Door Opener offers quiet operation and the high-quality performance.
Features
FEATURES
Drive system : Chain Drive
Horse power : 1/2 HP
Voltage / phase : 120V 60Hz
Lighting System : 1 light (100 watts max) with adjustable light time delay
Warranty* : 4 years on motor
Additional headroom required : 2"
MyQ® Technology allows you to monitor and operate your garage door opener safely using your smartphone (additional item required).
Alert-2-close warning system provides audible warning before the garage door close.
* Other parts of the opener are guaranteed for one year
Safety and security
THE PROTECTOR SYSTEM®
Project an invisible light beam across the garage door opening and automatically reverse the door if anything interrupts the beam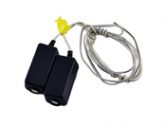 while the door is going down. Sensing technology will stop the door from closing if contact is made with a person or object. Opener light turns on automatically when The Protector System's infrared beam is broken.

MANUAL RELEASE HANDLE
This handle can be used to manually operate the garage door from the interior in the event of a power outage.
Security+ 2.0 rolling code technology assures a new code is sent every time the remote control is used.
Patented PosiLock® system ensures the door remains securely locked when the garage door is closed.
ALERT-2-CLOSE WARNING SYSTEM
Provides audible and visual warnings that the garage door is about to close when using the Timer-to-Close or remote closing features
WARNING
Garage doors and garage door openers can be dangerous if not installed and verified by a professional and not used properly. Children must be supervised by an adult when they are inside or in proximity of the garage.
Included accessories
INCLUDED WITH THE LIFTMASTER 8160 DOOR OPENER

LiftMaster 8160 door opener


Multi-Function Control Panel (882LMW)

3-Button Remote Control (893LM)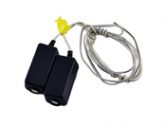 The Protector System (41A5034)

Appropriate 1 piece rail chain
* Also included: a hardware bag for installation (includes all necessary hardware for installation)
Optional accessories
OPTIONAL ACCESSORIES FOR THE LIFTMASTER 8160 ELECTRIC OPENER
LIFTMASTER CEILING MOUNT (195LM)
Eliminate Exposed Wires and Cords
It's time to give your garage the style it's been missing with this sleek ceiling mount from LiftMaster®. Designed to fit most 

standard garages, the black powder‑coated mount hides wires and cords for a cleaner, contemporary, upgraded look. Adjustable height to fit most ceilings – hangs 6.5 to 24 inches down from ceiling. Observe the difference between the customary mounting method and the LiftMaster (195LM).
3-BUTTON PREMIUM REMOTE CONTROL (893MAX)
This powerful multi‑door control can operate up to 3 garage door openers, gate operators, or MyQTM enabled light accessories.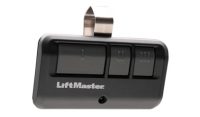 Plus, it's compatible with all LiftMaster® garage door openers manufactured since 1993.
1-BUTTON REMOTE CONTROL (891LM)
This powerful remote control can operate one garage door opener or gate operator, or MyQ™ enabled light accessory. It features Security+2.0™ rolling code technology that significantly reduces radio wave interference and makes it virtually impossible for anyone to steal your remote control signal.
WIRELESS CONTROL PANEL (885LM)
For people who want a second control in their garages. A light control button turns garage door opener lights on and off. 

Auxiliary button can be programmed to open and close a second garage door.
3-BUTTONS MINI REMOTE CONTROL (890MAX)
If you're always on the go, the LiftMaster® 3-Button Mini Remote Control will fit your busy lifestyle. It's small enough to fit right on your keychain, or in your purse or pocket, so you'll always have it when you come home. It can control up to three garage door openers or gate operators, or MyQ™ enabled light accessories. For added safety, it features Security+2.0™ rolling code technology that virtually eliminates interference and sends a brand new code every time it is used.
WIRELESS KEYLESS ENTRY SYSTEM (877MAX)
Open or close your garage door without using a remote control or key. The LiftMaster® Wireless Keyless Entry System can open the door using a private 4-digit code you program directly into the unit. You can also program it with temporary access codes for visitors or delivery and service personnel so they can gain access to your garage without having to give them your personal code. Plus, it works with all LiftMaster® garage door openers manufactured since January 1993.
LASER GARAGE PARKING ASSIST (975LM)
The high-tech solution that helps you park perfectly in your garage! As you pull into your garage the laser is activated and projected onto the dashboard, making it easy to park in the same spot every time.
MYQ™ ENABLED ACCESSORIES
REMOTE LIGHT SWITCH (823LM)
Now you can control your house lights at the touch of a button. The LiftMaster® Remote Light Switch replaces any single light switch, allowing control of the lights remotely via the LiftMaster Internet Gateway™ or garage door opener remote control.
REMOTE LIGHT CONTROL (825LM)
Lights on. Lights off. The LiftMaster® Remote Light Control lets you control your home lighting in three ways: with your garage door opener remote control, your garage door opener (it mimics the garage door opener work lights), or from your smartphone or computer via the LiftMaster Internet Gateway™ accessory.
LIFTMASTER INTERNET GATEWAY (828LM)
This revolutionary new accessory features built‑in MyQTM technology that connects to the Internet and allows you to monitor and operate your garage door opener, or 
turn on or off lights in or around your home, from anywhere in the world by using your smartphone or computer. It utilizes a two-way communication system that puts freedom and control in your hands.
GARAGE DOOR MONITOR (829LM)
Now you won't have to go downstairs or outside to see if you accidentally left the garage door open. With the LiftMaster® Garage Door Monitor, you can check and close the garage door from any room in the house.