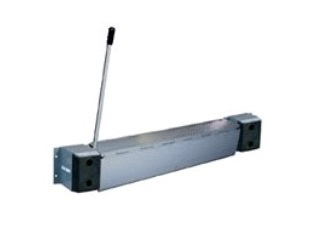 Edge-of-dock MD-CM mechanical dock leveler
20,000 or 30,000 lb (9,090 or 13,636 kg) Rated Capacities
The MD-CM Series edge-of-dock leveler is ideally suited for applications where installation of pit levelers is not feasible or where standard fleet bed heights are serviced at the loading dock. The MD-CM Series is easily installed to the dock face providing an efficient self storing docking unit, replacing cumbersome dock plates.
Description
MD-CM Mechanical Highlights
Deck and lip operation assisted by balanced spring lifting system.
Smooth top plate transition.
Comfort grip operating handle.
Grease fittings on 30,000 lb capacities to minimize operational friction.
Field adjustability for kicker bar and spring tension.
Lifting hole in lip allows for quick and easy handling by installer.


Features
Structural features
Deck and lip plates made of premium grade 50,000 psi minimum yield.
Four-way diamond tread plate.
Heavy-duty 3/8" x 6" back beam.
One-piece, continuous front and rear hinge pins for enhanced strength and durability.
Lip bevel helps protect forklift tires and steering systems and cargo.
Two (2) molded rubber bumpers bolted onto heavy-duty steel block extensions, to help protect building and dock from damage.